Redwood Region Teams Heading to World Finals!
This past season, 86 teams in the Redwood Region successfully completed the Odyssey journey. We are proud of each and every team!
For some, the journey was completed at our March 12 regional competition, and for other teams, at the April 2 State Finals at UC Riverside. For two of our Redwood Region teams, the journey is still continuing!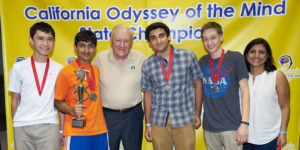 The "Stack Attack!" (structure) team from Maria Carrillo High School (Santa Rosa) came in 2nd at State Finals, getting credit for a whopping 757 pounds held on their 15 gram (think 5 unsharpened pencils) structure! Who knows what this team will hold when they "attack" their structure at World Finals?
MCHS team and coach Mona Dhar
pictured with Odyssey of the Mind founder Dr. Sam Micklus.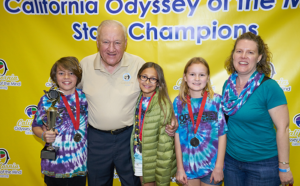 The Aesop Gone Viral (Classics) team from CLASS (San Rafael) also placed 2nd in the Division II level (grades 6-8). Coach Tonia Ganzhorn and the Awesome Flying Banana Casseroles crew will be traveling to Iowa State for the Odyssey of the Mind World Finals, held May 25-28, at Iowa State University.
We are extremely proud of all our Redwood Region teams.
On average, it costs around $10,000 for a team and its coaches to go to World Finals. To help defray a bit of the cost of these teams' trips to World Finals, the Redwood Region will provide funds for shipping props, etc., back to Iowa.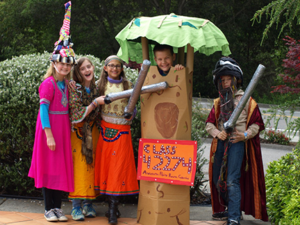 The CLASS team has a Gofundme website:
https://www.gofundme.com/6nyuwuys